Repose, Resurrection, & Rejoicing
On their blog,
Moniales
, the Dominican Nuns of Summit, New Jersey, have posted some interesting pictures of their activities during Holy Week and the Triduum.
Prayer and Repose

Praying before our Lord at the Altar of Repose on Holy Thursday.
Gaude et laetare

Exuberance during the Gloria at the celebration of Easter
Like butter...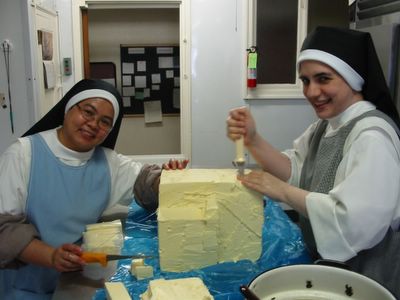 Two sisters cut up a 50 pound donation of butter.
* * * * *
"Signs of a call to Dominican Contemplative Life
"Single woman between the ages of 21-40

"A practicing Roman Catholic

"Fidelity and love for the Church

"Good physical and mental health

"A joyful, generous spirit

"Willingness to learn

"Ability to live in community and in solitude

"Zeal for the salvation of souls

"An attraction to prayer and the things of God

"A desire to give yourself entirely to Jesus Christ
"If you have these qualifications, why wait? We invite you, as Our Lord did His first disciples to 'come and see,' and contact:
Vocation Directress
Dominican Nuns
Monastery of Our Lady of the Rosary
543 Springfield Avenue
Summit, NJ 07901-4498
Phone: 908-273-1228

e-mail: vocations.summit@op.org"
From the Vocations page of
the Monastery of Our Lady of the Rosary
Summit, NJ